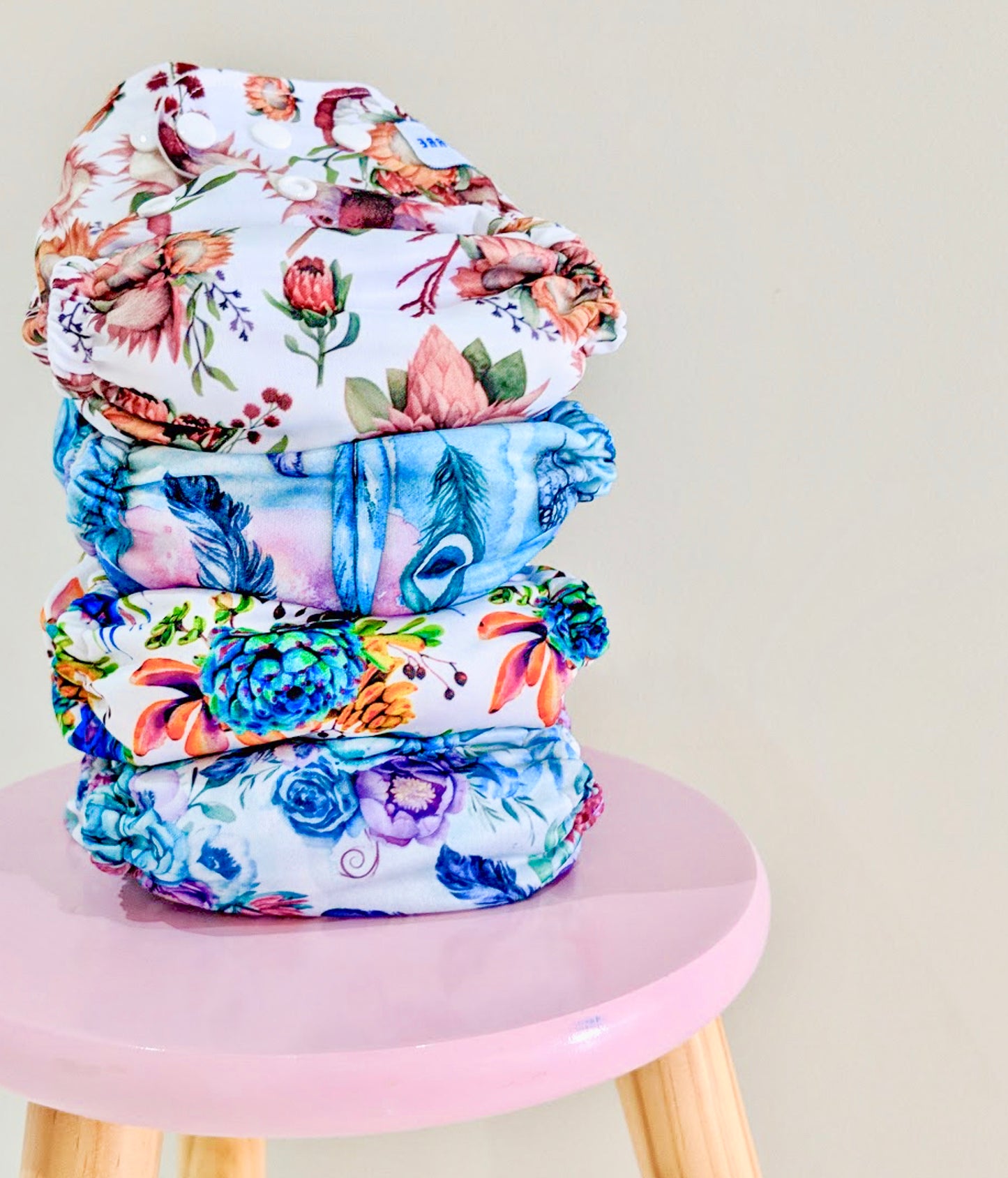 Nappies made with love...
I've been manufacturing cloth nappies and related products since 2011. My original brand idea was to deliver a nappy equal in quality to the more expensive brands, but at a more affordable price. 

Fast forward eight years and we have learnt a lot of lessons. We've worked with a number of different suppliers, learnt a lot about what can go wrong and how to try and get things right. 

I will be the first to admit manufacturing is not all fun. Yes, there is the pure joy of seeing your designs come to life. Sharing them with a keen group of loyal customers. Growing your brand and feeling satisfied in that achievement. But at the same time I am always looking for ways to improve. I can say in all the years I've done this, almost every batch of nappies I have tweaked. Behind the scenes it can be very stressful. When things go wrong customers think you've cut corners. Which I can assure you, would not be true of any brand because the savings that can generally be made by doing something (maybe a few cents per product) will cost so much more when things go wrong. So it is heartbreaking when despite every attempt to create the 'perfect' product, something is faulty. As you can imagine one faulty component not only destroys a whole batch but years of hard work building your reputation. A few years ago we had a bad batch of elastic. Still today customers comment on threads about our product 'I bought them and the elastics all died'. Despite replacing thousands of nappies we still, to no fault of our own, get branded with that bad feedback.
The truth is, you cannot compare the nappy you bought 3 years ago to the nappy of today. For example our next batch of nappies have been produced in a new factory. We have outgrown the capacity of our previous factory and moved to a supplier who has made for some of the biggest brands. Along the way to this point we have sourced different bamboo suppliers, different elastics for our nappies, different PUL and Minky etc. So our product is ever changing. The reason is that we strive to always have the best. 
Sometimes being around a long time can be difficult. A brand new nappy on the market hasn't had to stand the test of hundreds of batches of nappies and getting it right every time. No one can say they didn't last etc as all reviews are on a first impression basis. While the vast majority of our reviews are positive and we have thousands of happy customers, it is impossible for every single person to be happy no matter how hard you have tried. 

Our new factory has provided for us many new suppliers to produce what we feel is an overall better product. We have scrutinised over every detail. Sent our print samples to the factory to be tweaked three times. We rejected one printing factory. Swapped out prints and canned some all together. When you get your hands on the new release you will notice a thicker PUL, Minky that should wash up better then ever before and super soft leg elastic. Beyond all that, they feel like pure joy in your hands, designed and made with love.
- Jenny xxx